Land Acreage near Auburn University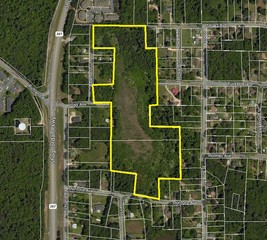 Location:
Auburn University
Marcus& Millichap exclusively offers for sale 19.45 acres of land near Auburn University campus in Auburn Alabama.
Property is one of the last great land development properties left inside Shug Jordan Parkway in Auburn.
Located approximately a half a mile from Auburn University campus, this 19.45 Acre lot is prime real estate. The property is mostly wooded and flat sitting one block east of Shug Jordan Pkwy bordering Judd Avenue and Alberta Street. It can be accessed from Judd or Alberta via Shug Jordan Pkwy or Richland Road.
Perfect opportunity for investors and developers. As the Auburn real estate market continues to thrive, this land tract has an optimal location for multifamily development to include regular residential apartments, senior housing or assisted living, mini-storage hotel/motel etc.
Investment Highlights
âÂ? Near the Campus of Auburn University
âÂ? 19.45 acres development opportunity off Shug Jordan Parkway
âÂ? Over 26,500 Average Daily Traffic near the Property
âÂ? Multi-Family, Assisted Living, Hotels, various retail are potential uses
âÂ? Other potentials include mini-storage, hotel/motel
âÂ? Close to Auburn Campus and Football Stadium
645 Alberta Street
Auburn, AL 36832
View Map
Proposed Use:
Multi-Family
All information in this site is deemed reliable but is not guaranteed and is subject to change